Join in!
You want to make a difference? Would you like to have an active say in decisions made by the university and the student body and experience university politics live? Then just join your student council or a list at the next election and become a StuPa member!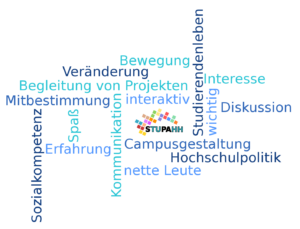 Your advantages:
You are always top informed about the current situation at the university.
You can contribute your opinion and represent the student body responsibly.
You get to meet a lot of new people and can polish up your resume for later job applications.
If you are still unsure, then just come to a meeting – we always have a few free seats for interested listeners and "co-discussants" – you don't even need to register, just check here on the homepage or at the door of the StuPa office (E0.102) when and where the next meeting will take place and drop by! There are even cookies!
If you don't have time to come by in person, just contact us here!
You have a request that should be discussed in the student parliament or you want to submit a motion to the StuPa? Then you will find the right information here.